---
Tina Beaird, owner of Tamarack Genealogy, is a genealogy & local history librarian at a mid-sized Chicagoland public library. She holds a Masters of Library and Information Science degree with a specialization in Archives/Preservation from Dominican University in River Forest, IL. Tina has won multiple research and digitization grants over the years to preserve and digitize historic documents and photographs.

She lectures nationally on topics including genealogical methodology, military records, Scottish research and photo and archival preservation. Tina has assisted researchers for over 15 years, and occasionally still finds time to conduct her own family research, which she has been pursuing for over twenty-five years.

Tina is the First Vice-President of the Illinois State Genealogical Society, and board director for the Oswegoland Heritage Association, She is also an active member of the American Library Association and the Society of American Archivists. She volunteers her time, when available, with several Chicago area historical and genealogical societies.

---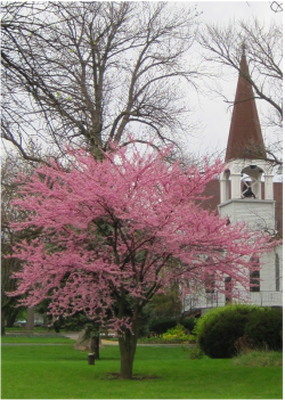 Tamarack's Story
Tamarack is a Scottish settlement established in 1845 by Stephen and Sybilla Findlay and sons. It is located between Plainfield, Illinois to the south and Aurora, Illinois to the north. The settlement grew to become home to dozens of Scottish families emigrating predominately from Ayrshire and Renfrewshire Scotland.

Wheatland Presbyterian Church, founded in 1846, quickly became the religious and social center of the community. 175 years since these intrepid Scots put plow to prairie, descendants of these hardy pioneers still worship together and carry on the legacy of their ancestors.

Why name my company Tamarack Genealogy? I have been researching and writing about Tamarack for over 15 years. I have traveled extensively in the United States and the United Kingdom locating family records, interviewing descendants, and documenting the history of the settlement. Through connecting with Tamarack's descendants, I have uncovered a rich and vibrant history. It didn't take long to find a special place in my heart. It is a truly a remarkable site.


---